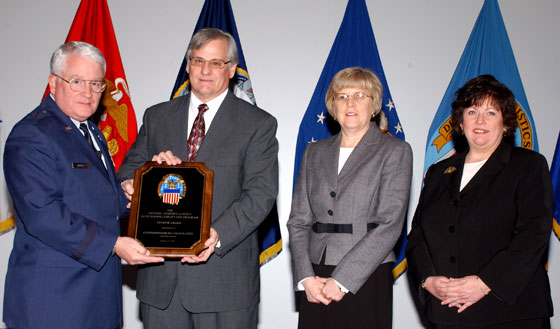 Cottonwood Inc. of Lawrence, Kansas was among the award recipients when the Defense Logistics Agency honored 23 industry partners, customers and individuals with its Business Alliance Awards.
Cottonwood Inc. received the Outstanding AbilityOne Program Vendor Award presented to non-profit agencies (National Industries for the Blind, employing the blind; or NISH, employing persons with severe disabilities) that exemplify overall excellence in superior product quality, on-time delivery, superior customer service, reliability, dependability, consistency and accuracy.
Overall, the Business Alliance Awards recognize those who have demonstrated outstanding efforts to partner with DLA and improve the agency's mission — providing supplies and services to America's warfighters. DLA Vice Director Air Force Maj. Gen. Arthur B. Morrill III presented the annual awards.
The agency's primary role includes managing more than 5 million consumable items, such as rations, medical supplies and equipment, clothing and textiles, and repair parts for land, sea and air weapons systems and platforms.
Cottonwood Inc., a source of supply for cargo tie down straps, has managed to keep up with unprecedented demand for this essential logistical item while continuing to be one of DLA's top performers.
DLA provides supply support, and technical and logistics services to the U.S. military services and several federal civilian agencies. Headquartered at Fort Belvoir, Va., the agency is the one source for nearly every consumable item, whether for combat readiness, emergency preparedness or day-to-day operations inside the Department of Defense.