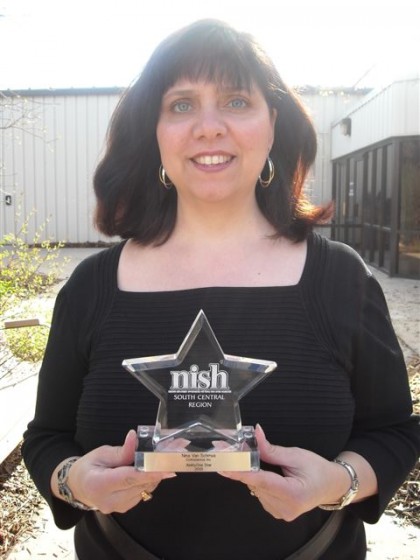 Nina received the distinguished "Shining Star Award" at the NISH South Central regional conference, from Sally Henderson, Executive Director, NISH South Central Region in New Orleans on February 4th, 2010.
Nina has been the Government Contracts Manager for Cottonwood for the last 3 years. Nina, with her vast experience in manufacturing and government contracting, has been an excellent addition to the Cottonwood Team.
Nina oversees many components of Cottonwood's federal contract and serves as chairman of the agency's ISO Steering Committee. She is responsible for administering the quality guidelines associated with the contract and for assuring that Cottonwood is in compliance with all contract regulations. Nina monitors both production & quality issues and coordinates all deliveries and invoicing, as well as generating all of the documentation associated with the contract.
Nina manages duty-free issues, as well as all inspection processes and RFID requirements for outgoing shipments. Nina works with a variety of suppliers, transportation providers, and governmental procurement staff. Nina is indeed an excellent team leader within Cottonwood's manufacturing management structure and is valued by her co-workers for her energy and ability to resolve any issues that may arise.
Nina also does an outstanding job at interfacing with our government customers, quality inspectors, as well as assuring compliance through her interactions with NISH staff. Nina has the gift for being able to meet difficult issues head on to achieve successful resolutions.