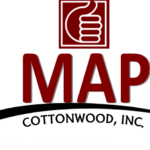 What is MAP?
• MAP (Manufacturing, Assembly and Production) is a program designed to expand Cottonwood's workforce to include people with ALL types of significant disabilities in accordance with the Federal AbilityOne Program.
• We help people with barriers to employment to meet goals, receive training in a production setting, learn new skills, grow and become a valued Cottonwood Industries team member while earning a paycheck.
• Accommodations and supports can be provided to help with growth and to provide a platform for success.
What type of work will an AbilityOne Production Worker perform?
We are hiring staff for 30 + hours per week to perform various tasks such as assembly, collating, packing, labeling, sewing and quality control of product.
How do I qualify for this program?
Cottonwood Inc. follows AbilityOne standards when determining a candidates eligibility for employment through the MAP Program.

Documentation of a Medical or Mental Health diagnosis will need to be dated, signed and provided by a Licensed Practitioner (physician, nurse practitioner, physician's assistant, psychiatrist, psychologist or qualified mental health provider) in the form of a written report on professional letterhead.

A list of the requirements for the documentation can be provided upon request.


For More Information

If you want to learn more information about being a part of the Cottonwood Industries team contact:
Alyson Wingert at 785-842-0550 or 785-312-3912 or email:  ajcwingert@cwood.org