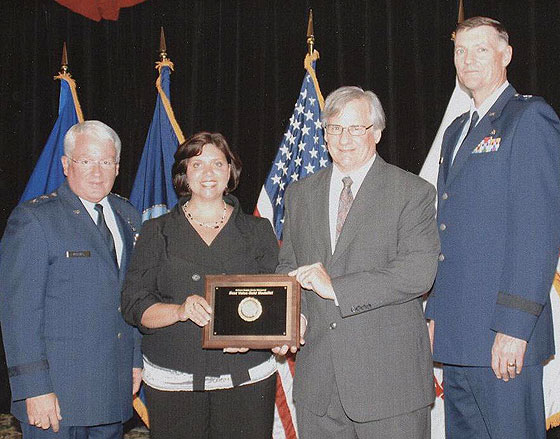 Major General, Arthur B. Morrill III, US Air Force Vice Director, Defense Logistics Agency, Nina VanSchmus, Government Contracts Manager for Cottonwood Industries, JR Condra, Director of Cottonwood Industries and Air Force Brigadier General, Andrew E. Bush, DSCR Commander.
Cottonwood Industries a division of Cottonwood Incorporated was honored by the Defense Supply Center Richmond, Virginia as one of the government's best suppliers at an Automated Best Value System award ceremony held during the center's annual business conference.
Cottonwood has supplied the Department of Defense with over 5 million cargo tie down straps since its initial contract began in 1999.
Firms that qualify as Automated Best Value System medalist have met stringent quality and delivery requirements established by the Defense Logistics Agency. The Automated Best Value computerized system collects a vendor's past performance data and translates it into a numeric score, ranging from zero to 100.
To be eligible, vendors must have shipped 25 or more contract lines for DSCR during a 12-month rating period. To qualify for a gold medal, a contractor must have a score of 100.
Cottonwood has received nine consecutive Gold Medal Awards from DSCR